H.R.5866 The Nuclear Energy Research and Development Act of 2010; H.R. 6160, the Rare Earths and Critical Materials Revitalization Act of 2010
Ranking Member Ralph Hall (R-TX)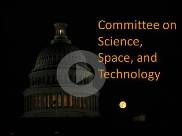 Press Release
COMMITTEE APPROVES NUCLEAR R&D BILL, BILL TO ADVANCE DOMESTIC PRODUCTION OF 'RARE EARTHS'
Republican amendments successfully cut spending and support Yucca Mountain as an option for nuclear waste storage
Washington D.C. – September 23, 2010 - The Science and Technology Committee today approved by voice vote H.R 5866, the Nuclear Energy Research and Development Act of 2010 and H.R. 6160, the Rare Earths and Critical Materials Revitalization Act of 2010. These bills aim to enhance research and development (R&D) to promote America's production of safe, reliable nuclear energy and decrease our reliance on China for critical materials necessary for high-tech applications.
H.R. 5866 authorizes nuclear R&D programs at the Department of Energy (DOE), and accelerates research toward the advancement of small modular reactors. Ranking Member Ralph Hall (R-TX) praised this bill as a comprehensive approach to authorizing nuclear R&D.
"In the short term, we need to license and build more reactors using existing light water technology," Hall said, "but over the longer term we need to advance the development and licensing of new reactor designs, extend the life of the existing reactor fleet, and address the serious issue of managing waste and spent nuclear fuel."
Republicans today offered three successful amendments to improve the nuclear bill, two of which highlighted the importance of the Yucca Mountain nuclear waste repository and the need for long term nuclear waste storage solutions. The Obama Administration has proposed abandoning Yucca Mountain as an option for nuclear waste storage, without any comprehensive scientific or cost analysis. An amendment offered by Ranking Member Hall on behalf of Rep. Jim Sensenbrenner (R-WI) reinforced the Federal government's responsibility to store spent nuclear waste. Further, an amendment offered by Rep. Bob Inglis (R-SC) requires DOE to compare other nuclear waste disposal options with long-term storage at the Yucca Mountain site.
In an effort to expedite the process of bringing new nuclear reactors online, Rep. Brian Bilbray (R-CA), offered a successful amendment that requires a report on specific State requirements that delay or impede commercialization of nuclear power, including moratoria. The report must also give recommendations for how the Federal government can assist in overcoming such impediments.
The Committee today also approved H.R. 6160, a bill to advance American development of rare earth elements, or "rare earths," which are essential components in many high-tech applications. Rare earths are used in numerous clean energy technologies such as wind turbines as well as defense related technologies and consumer products. China currently controls a near monopoly on rare earths and recently announced its intention to reduce exports, triggering concerns that the U.S. could face a supply gap. Republicans expressed concerns regarding the potential impact of this issue, but questioned whether H.R. 6160 appropriately addresses the problem.
The issues of rare earths supply, production, and use in manufacturing are complex and include geopolitical aspects of global resource availability. Further, there is evidence that potential supply shortages for these minerals would greatly increase private sector incentives to invest in rare earths, without the help of taxpayer subsidies.
"With respect to commercial supply needs, it appears that increased demand and actions by China have resulted in sharp price increases for rare earth materials," Hall noted. "This in turn has stimulated an immediate market response, as companies around the world are aggressively pursuing new rare earth mining and processing opportunities—suggesting that a taxpayer subsidy for such activity may not be necessary."
Republicans offered several amendments that were accepted and successfully cut spending in the bill with the adoption of an amendment offered by Rep. Dana Rohrabacher (R-CA) that would require DOE to prioritize funding for a new rare earths R&D program from the existing budget, rather than adding a new appropriation authorization. Additionally, Rep Pete Olson (R-TX) and Rep. Judy Biggert (R-IL) offered amendments to strike establishment of a new center for rare earths and shorten the length of authorization for rare earth loan guarantees, respectively.
Several other Republican amendments were not agreed to, though Members expressed a desire to continue to address these issues as the bill moves forward in the process. Rep. Paul Broun (R-GA) offered an amendment that would have stipulated that loan guarantees could only go to a project if that project was not currently being undertaken by the private sector, nor was likely to be funded through private capital. The amendment was defeated. Another Republican amendment by Rep. Broun to broaden international collaboration beyond European countries was also defeated along a party line vote. The amendment would have allowed the Energy Secretary more flexibility in international cooperation with countries such as Australia and Canada that have proven reserves of rare earth minerals.
###