Washington, D.C. – Science, Space, and Technology Committee Chairman Lamar Smith (R-Texas) today released the following statement after two former senior National Weather Service (NWS) officials pleaded the Fifth Amendment rather than testify before the Committee about alleged contract misconduct.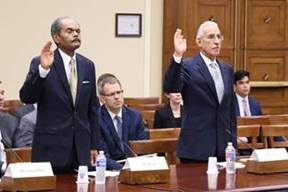 [Pictured from left, Mr. Byrd and Mr. Jiron are sworn in before the Committee]
Today's hearing was to examine allegations that Peter Jiron, the former Deputy CFO at the NWS, set himself up for a post-retirement consulting contract while he was still employed at the agency. Further, his supervisor at the time, Robert Byrd, the then CFO, allegedly encouraged and approved the contract. Both Mr. Byrd and Mr. Jiron exercised their Fifth Amendment rights and were excused from the hearing.
Chairman Smith: "Today's hearing was an opportunity for Mr. Jiron and Mr. Byrd to explain to us why taxpayers picked up the tab for an allegedly improper contract worth nearly half a million dollars. Unfortunately, both former senior officials chose a path of non-cooperation and refused to speak with Committee staff voluntarily and only appeared here today under subpoena. I am disappointed that neither Mr. Jiron nor Mr. Byrd chose to testify today.
"One of the most important functions of Congress is to conduct robust oversight of the Executive branch. This provides the fundamental checks and balances that our founders intended. When Americans' trust has been violated, Congress has an obligation to understand what went wrong so we can ensure that it does not happen again. I was disappointed to learn that despite the Inspector General's good work highlighting this case, the Obama administration's Justice Department refused to investigate this case. The Committee will continue to seek answers from Mr. Jiron and Mr. Byrd and will conduct oversight to determine if these types of actions are common at the National Weather Service."
According to the Commerce Department's Inspector General, in 2009, one month before officially retiring from the NWS, Mr. Jiron negotiated the terms of his consultancy, drafted and edited the associated Statement of Work for the consultancy, drafted terms and conditions of his contract with NWS as a consultant, and eventually signed the consulting contract with the NWS in April 2010.
Part of Mr. Jiron's consulting agreement included post-retirement housing expensed by the NWS totaling $50,000 in value. Mr. Jiron's consulting contract lasted 21 months, costing the government $471,875. None of this may have been discovered but for the fact that Mr. Jiron later attempted to persuade employees at NWS to hire a close family member.
After Mr. Jiron and Mr. Byrd were excused, the hearing proceeded with testimony from Mr. Mark Greenblatt, Deputy Assistant General for Compliance & Ethics at the Department of Commerce Office of Inspector General. To watch the LIVE hearing, visit the Committee website.