NASA Associate Administrator Says Increases Needed to Keep Future Missions on Track
Washington, D.C. – The Science, Space, and Technology Committee today held a hearing to recognize recent planetary science successes and the importance of continued space exploration. The hearing featured some of the newest planetary images to be publicly released to date.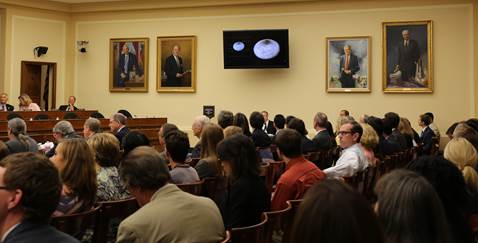 New Horizons Mission lead Dr. Alan Stern describes photos and findings from the recent Pluto flyby at Tuesday's hearing.
Chairman Lamar Smith: "The exploration of our universe captures Americans' interests, inspires us to pursue extraordinary goals, and keeps us on the forefront of scientific achievement. It also is what NASA was created to do.
"Since 1958, NASA has led the world in space exploration with a long list of firsts: NASA built, launched, and operated the first spacecraft to encounter another planet, the first spacecraft to leave our solar system, and the first spacecraft to take humans to the Moon. Earlier this month, the New Horizons spacecraft achieved another American first by being the first spacecraft to reach Pluto. Today, young students across the country are reading about New Horizons, looking at pictures of Pluto, and are excited about one day exploring the cosmos themselves and making new discoveries. "
New Horizons Mission lead scientist Dr. Alan Stern highlighted discoveries from the Pluto flyby: "It's very clear we do not understand the interior workings of small planets. … Small planets should cool off, and yet [Pluto] has not. And this is a major challenge to the field of planetary science, to understand how this can be, and it's a demonstration that only could be made by going to Pluto, which New Horizons has now done. I want to say the other big discovery in my view is a level of public interest in exploration, which went completely viral. I think people really like frontiers, and the United States is in a great position to extend soft power projection through just this kind of space program."
The Science Committee's NASA Authorization Act for FY16 and FY17 increased planetary science budgets by $138 million, restoring funds the Obama administration proposed cutting from planetary science budgets. This would bring parity between NASA's science accounts and allow for development of missions like New Horizons to continue at the current pace.
When asked by Chairman Smith about the impacts of proposed cuts, NASA Science Mission Directorate Associate Administrator Dr. John Grunsfeld said NASA "would be able to keep … on track and increase the cadence [of planetary missions like New Horizons] with increased funding."
In addition to Dr. Stern and Dr. Grunsfeld, experts on the Dawn and Europa missions also testified to their progress and how additional funds might be used for those missions. Europa advocate and House Commerce, Justice, and Science Appropriations Subcommittee Chairman John Culberson (R-Texas) also made an appearance at Tuesday's hearing. House appropriators have also voted to increase planetary budgets in the face of proposed administration cuts.
The following witnesses testified today:
Dr. John Grunsfeld, Associate Administrator, Science Mission Directorate, NASA (video testimony)
Dr. Alan Stern, Principal Investigator, New Horizons Mission, Southwest Research Institute (video testimony)
Dr. Christopher Russell, Principal Investigator, Dawn Mission; Professor of Geophysics and Planetary Physics, University of California Los Angeles (video testimony)
Dr. Robert Pappalardo, Study Scientist, Europa Mission Concept, Jet Propulsion Laboratory, NASA
Dr. Robert Braun, David & Andrew Lewis Professor of Space Technology, Georgia Institute of Technology
For additional information on today's hearing, including witness testimony and the archived webcast, visit the Science, Space, and Technology Committee website.