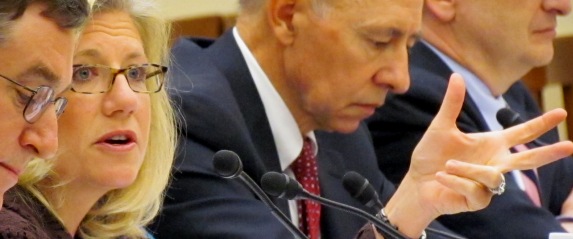 Washington D.C. – Today in a hearing of the Committee on Science, Space, and Technology examining technology and policy pathways to develop more domestic unconventional oil resources, witnesses urged the Obama Administration to pursue policies that will encourage expanded production.
Addressing the need for steps to reduce gasoline prices, Committee Chairman Ralph Hall (R-TX) said, "Faced with a direct and urgent opportunity to address U.S. oil supply and infrastructure concerns, the President opposes drilling in ANWR, restricts development in the Gulf of Mexico and Outer Continental Shelf, rejects the Keystone XL pipeline, and blocks over a million acres of public land from oil shale development."
The average price of a gallon of regular gasoline is currently $3.91, about 60 cents higher than they were in January. The Department of Energy's Energy Information Administration (EIA) estimates prices will remain close to four dollars per gallon throughout the summer. The primary factor driving gasoline prices is the price of crude oil, representing 72 percent of the total cost of a gallon of gas, however, taxes, refining costs, and distribution and marketing also contribute.
Stressing the potential benefits of expanded domestic oil production, Ms. Karen Harbert, President of the U.S. Chamber of Commerce's Institute for 21st Century Energy, discussed how the U.S. could position itself as a key energy producer. "If the federal government were to allow access to the country's tremendous unconventional resources, our production levels could completely reshape the current geopolitical paradigm that has existed for more than 40 years." Ms. Harbert went on to discuss how increasing domestic energy production could impact oil markets and gasoline prices. VIDEO HERE
Mr. Andrew Slaughter, the Chair of the Resource and Supply Task Group of a recently published report from the National Petroleum Council, said that the "ultimate potential of North American unconventional oil is huge." The study found that oil in place is estimated at over 3.5 trillion barrels, and recoverable resources using known technology represents over 177 billion barrels. Mr. Slaughter said that with future technological developments, "we may ultimately be able to recover over 1 trillion barrels of all these resources."
The Chief Energy Economist at University of Texas's Bureau of Economic Geology, Dr. Michelle Michot Foss, praised the capability and efficiency of our domestic oil producers. "We have a rich resource endowment and a nimble, inventive, and deep industry bench. Whenever supply-demand conditions yield an attractive price signal that suggests imbalance, companies and investors respond quickly." Dr. Foss also said "Energy is essential for economic development and well-being," adding that "Exploration is a research and development business."
Mr. James Brown, President and Chief Operating Officer for Whiting Petroleum Corporation, discussed how technology advances revolutionized his business and contributed to massive growth in energy production over the last decade in North Dakota. Mr. Brown's company increased its employment by a factor of five over the last nine years and currently has over 250 open positions.
Also mentioned at today's hearing were the findings of a recent report by Citigroup Inc. that declared the U.S. could become "the largest liquid producer in the world and looks almost certain to overtake Russia and Saudi Arabia before the decade is over." The report added that "North America is the new Middle East. The only thing that can stop it is politics…"
The following witnesses testified today before the Committee:
Mr. Andrew Slaughter, Chair – Resource & Supply Task Group, National Petroleum Council Report "Prudent Development;"
Ms. Karen Harbert, President and Chief Executive Officer, Institute for 21st Century Energy, U.S. Chamber of Commerce;
Dr. Michelle Michot Foss, Chief Energy Economist, Center for Energy Economics, Bureau of Economic Geology, University of Texas-Austin;
Mr. James Brown, President and Chief Operating Officer, Whiting Petroleum Corporation;
Mr. Daniel Weiss, Senior Fellow and Director of Climate Strategy, Center for American Progress Action Fund.